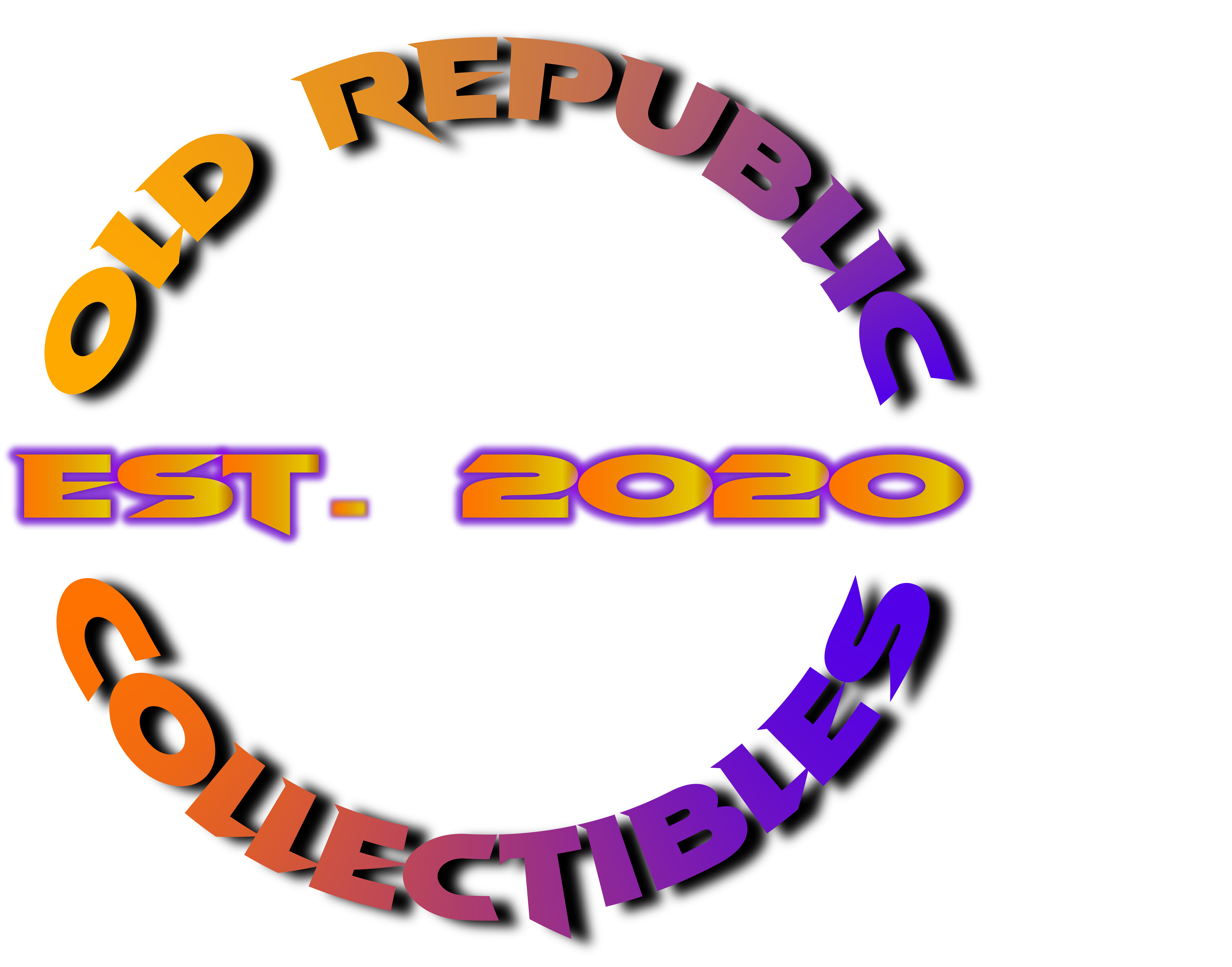 Family/Veteran owned and operated, established 2020: Just two dedicated fans of the incredible Star Wars Galaxy. My Wife and I (Rachel and Philip) are fans of each trilogy, having grown up in different eras each. We've gained an appreciation for Star Wars on so many levels. We too have a vast collection that consists of mainly Black Series as well as the Vintage Collection and Hot Toys.
We've been there: We know what it's like to search endlessly and tirelessly to find the figure you want most. We will do our best to assist in making this a seamless process. We will monitor the market wisely on specific figures to ensure you're getting the best prices! We will also do our best to keep a large inventory. If you don't see a specific item, message us.
Shipping: We've also fortunately and unfortunately been there. We're avid collectors, quality control is second nature and an absolute must! We will not skip the details, ensuring your product is in excellent packaging condition. Whether you're an opener or not. You deserve to receive a 'minty fresh' product. Of course there are the rare occasions when shipping services unleash order 66 on your product prior to arrival. We ship all orders with care by ensuring all are packed precisely. Any order that is placed using free shipping within the USA will not be packaged with protection to ensure the most economical way of shipping is utlized. ORCLLC is not responsible in anyway shape or form for damaged product upon arrival using this method.

Please note: Items ship with free shipping option without packing supplies and do not ship individually. For instance if an in stock item is ordered with a pre order item using free shipping. Then the in stock item will ship once the pre order item becomes available.
Always Evolving: As we're a new store, we will be constantly looking for ways to improve, we're open to all suggestions. We will also be making changes as we grow together. Stick with us for giveaways on Instagram along with store giveaways.
Be on the lookout: Follow us on Instagram and turn on post notifications. We will update in stock alerts along with any sales. This is the best way to obtain ETA's on delivery as with known current economic shipping delays ORC LLC has no control over the shipping speed.
Rights: Old Republic Collectibles LLC reserves the right to amend any pricing errors and reserves the right to cancel any orders resulting in error pricing. Old Republic Collectibles LLC owns the Trademark and Copyright to all logos of our brand and title. Any unauthorized use is prohibited. Any false or misleading allegations that are defamatory in nature in repetitive use that harm or misrepresent our brand will be met with legal action. Any action repetitive falsely accusing and or damaging reputation of our brand will be met with legal action. ORC LLC reserves the right to ammend any of our terms and conditions to reflect the current economic situation - or - manufacturer delays. Due to inflation and or surcharge increases. By purchasing and selecting the drop down menu on pre order items at checkout, which states: (PRE ORDER WE WILL NOTIFY YOU ONCE SHIPPED SEE TERMS AND CONDITIONS.) You agree to our terms.

ORC LLC will reserve the right to cancel a pre order or pre order(s). ORC LLC reserves the right to amend any and all terms and conditions due to current and or impending economic issues. When we are met with foul language, verbal threats and or false allegations regarding order wait times or any other aspect. Should the above take place, such as subtle threats made, including but not limited to any eratic bahvior of persistant profantiy, or harrassment. The pre order or pre order(s) and or in stock order(s) will be canceled and met with a 25% cancellation fee. Effective immediately - should the manufacturer cancel a product that has been listed for pre order after the orders have been allocated- ORC LLC will only issue the option of a like replacement plus a $10 store gift card.
Pre Orders: Our pre-orders are final sale and we are unable to cancel or issue a refund for them. All Pre Orders are subject to manufacturers terms and availability. If a pre-order should for some reason be recalled (outside of our control) a refund will be issued. When pre-ordering please be sure to update us if there are any address changes. ORCLLC is not responsible for lost prodcut due to not being advised of address changes.

Address Changes: When an item is processed for shipment, emails are sent notifying of the impending shipment. It is the customers responsibility to notify us of the address change prior to leaving our facility. If you fail to do so, you are responsible for return shipment - if the product is lost due to not being notiffied of the address change. We can not issue a refund and will only issue a 10% off code on a future order where the next order will require signature and confirmation of address. If the product arrives and we are reached out over a month or more later that "it was never received." We are not held responsible when tracking shows delivered. Should the product arrive and a return is requested, buyer pays return shipping and the refund will reflect as a cancellation as that is essentially what it is. The refund will reflect our 25% cancellation fee.

PRE ORDERS:

EFFECTIVE IMMEDIATELY: Due to increased inflation and daily product surcharges via manufacturer on small businesses: Pre-Orders placed and canceled for any reason are subject to NON CANCELLATION- for non exclusive product only! We appreciate your business and understanding!

ANY Exclusive Figures that are imported will be subject now to a 50% cancellation fee. We bring in the figures based off of qauntities of sales made in many cases. There is now a 300% fuel surcharge to import from overseas and additonal increases on prpduct due to inflation as well as being charged to place the order from the US to our Out of Country Location. Thus we have implemented EFFECTIVE IMMEDIATELY a 50% cancellation fee for ALL exclusives imported. The cancellation fee is applicable regardless of reason for cancelling.

FINAL SALE: Sale or Discounted merchandise, or using a discount code, with the exception for damaged merchandise NOT USING FREE SHIPPING. Are not eligible for returns or refunds or credits of any kind. Any item ordered that is on sale will not be eligible for cancellation and or return. All sale item sales are final!

ORCLLC is NOT responsible for manufacturers shipping delays or import shipping delays! ORCLLC does not control the shipping speed and furthermore if a product is delayed, this does NOT mean the product is unavailable.

Should a trade war breakout and trade halted - or - an economic crash - or - war -or - recession. ALL refunds will be temporarily halted until further notice, until the merchandise is shipped and until the situation is at ease. In the event of a economic depression all orders will be subject to a non cancellation policy regardless of when they were placed. We are not repsonsible for an economic collapse, inflation or shipping delays or manufacturer delays.

Credit Card Fraud/theft: Any individual or individuals knowingly executing credit fraud or transactions. Will be met with legal action via 18 U.S.C. 1344.

If a transaction is disputed as fraud upon receipt of item(s). Or due to disagreement with our posted cancellation policy via your financial instituton. ORC LLC reserves the right to seek legal representation against such action. If a refund is provided on our end and then the transaction is disputed knowingly by the customer to their financial institution. We will work with your bank regarding transaction fraud. As well as treat the matter as theft. Thank you for your understanding.

Shipping: EFFECTIVE IMMEDIATELY - If you combine In-stock and Pre-Order items, your order will not ship until all items are in-stock. We advise you to place separate orders for In-stock items and Pre-Order items. If you wish to have your items on hand shipped while waiting for the others to arrive, there will be an additional fee to split the shipping on an order. You can be invoiced for that additional shipping charge by emailing customerservice@oldrepubliccollectibles.com.
Returns: EFFECTIVE IMMEDIATELY: Due to increased inflation and daily product surcharges via manufacturer on small businesses: Pre-Orders placed and canceled for any reason are subject to NON CANCELLATION- for non exclusive product only! We appreciate your business and understanding! We will not honor any returns at this time due to the above mentioned terms. We appreciate your understanding! Should a return be accepted - the items must arrive unopened and shipped back with protection as originally shipped to you: Further damages will result in a prorated refund. Return labels are purchased by the customer.

International buyers: ORCLLC is not responsible for any added VAT and or Duty fees. If an item is returned to us the return postage and fees must be paid for re-release of shipment. Any cancellations are met per terms as listed in our cancellation policy.


Plastic Free Packaging: ORC LLC is NOT responsible for any manufacturer defects/missing accessories or broken items inside packing that cannot be seen into upon shipping. ORC LLC prides ourselves on MINT condition shipments. We never and Will Never open items prior to shipping as we elect not to. The items ship in their original packaging and are no longer the responsibility of ORC LLC once shipped. Should the items arrive damaged (package wise) (ONLY WHEN) paid shipping is selected. ORC LLC will provide asisstance, either offering a refund, replacement OR credit towards another item. ORC LLC strongly encourages customers that receive missing pieces, broken pieces or other Major QC related issues to contact the manufacturer as ORC LLC will not hold responsibility for any factory error(s). Thank you.
Most of All! Thank you for your support, being a fan which includes your business! We are excited to bring the best toys to your home!